Librarians have long been in the forefront of technology, fearlessly leaping in to improve library operations and offer new services for users. While one-shot library sessions continue to be in demand, librarians now have a variety of ways to present information.
Read More

Revised and updated to include the latest trends and applications in electronic health records, this fifth edition of Electronic Health Records: A Practical Guide for Professionals and ...
View entire DCT record...
---
e-Discovery and Electronic Records is a healthcare professional resource guide focusing on the process of electronic discovery (e-Discovery) and describing best practices in electronic ...
View entire DCT record...
---



With Precision Search, searching Medline® has never been easier or more powerful for your patrons. It is the self-serve Medline search tool, designed to be the tool your users turn to first when looking for Medline articles. Three features distinguish Precision Search from all other Medline search tools.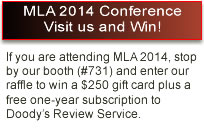 We regularly update the Doody's Core Titles web site when eBook versions, reviews, or information about forthcoming or new editions of titles on DCT 2013 become available. This month we feature:
28 new eBooks
27 new Reviews (Premium Subscribers Only)
3 new Editions
Log in or Order Now to access the full Doody's Core Titles list.



Get the latest Doody's Core Titles and take advantage of all the NEW features today!

Doody's Core Titles 2013
Key Features
| | | |
| --- | --- | --- |
| | | A newly selected list of the most distinguished references by subject area |
| | | eBook Links to eBook aggregators that carry digital versions |
| | | Monthly Newsletter about new eBooks, new editions, and valuable industry news |
| | | Expert recommend-ations of Core Titles and Essential Purchase picks in 121 specialties |
| | | BH Icon denoting that a version of a DCT title appeared on the final Brandon/Hill lists |
| | | Extensive search and filter utilities |
| | | Easy-to-use export and print tools |
| | | Streamlined online ordering system |
| | | Simple title ordering through distributors |


Sign up for our

Free

monthly newsletter alerting you to new eBooks and new editions of DCT titles, as well as valuable industry news and insights. DCT Licensees will have a link to all of the features of Doody's Core Titles from the newsletter.

Interested in sponsorship opportunities for Doody's Core Titles? Click here to get more information.