Lew Reines, perhaps the preeminent medical publisher of the past 50 years, died in Brooklyn this past November. I knew him as a competitor and friend since the early 1970s. Lew was then working at J.B. Lippincott on East Washington Square in Philadelphia, and I was at W.B. Saunders on West Washington Square. Lea & Febiger, another medical publisher and then the oldest publisher in the United States (1785), was on the south side of the Square.
Lew had his first encounter with medical books at his uncle's medical bookstore in Brooklyn, which served Kings County Hospital Center and SUNY Downstate College of Medicine. He informed me that he started working at the store at the age of 12. Even at the beginning of his publishing career, he seemed aware of every leading medical book published in English. I remember being envious of his vast reservoir of information.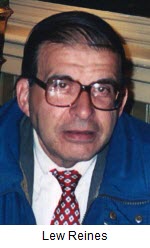 Lew was born and raised in Brooklyn and attended Midwood High School, whose best-known graduate is Woody Allen. He worked in Philadelphia for many years but always traveled back to Brooklyn on weekends. I believe, from several of Lew's accounts, that he was a mother's ideal son, on at least one occasion taking her on a vacation to Brazil, one of his favorite destinations. (Over time he became a savant in Brazilian popular music.) After her passing, he continued to keep the family apartment in Brooklyn as his base of operations.
I believe he joined Lippincott after applying to several American medical publishers, including W.B. Saunders, which mistakenly did not offer him a position. Upon meeting anyone of professional consequence to him, one of his first pronouncements was that he never attended college. He believed this was why he failed to receive offers from any medical publisher except Lippincott, a house known at the time to keep salaries in check by hiring unappreciated talent.
Lew was especially quick to confess his lack of a college degree when he was around Ivy Leaguers and others of elite education, whether fellow publishers or physician authors. I doubt anyone took much note of this, as almost everyone can tick off successful people who either never matriculated at college or left early (e.g., Bill Gates, my father, etc.). And I was never quite certain if he was proud of his interrupted education or defensive. In any event, all of us who knew Lew rapidly concluded that he could have easily excelled at any college or university in North America.
Lew apparently started his formal career as an acquisitions editor, rather than a copy editor, as so many of us did. It is the role of the acquisitions editor to identify opportunities in the marketplace, in this instance for new medical textbooks, reference books, and monographs. Later in his career Lew, in his CEO positions, supervised and guided all the areas of health sciences publishing, including nursing, veterinary medicine, dentistry, and the allied health professions. This also included the important category of medical journals. But early on, his focus was books for medical students, physicians, and some overlapping allied health areas.
At W.B. Saunders each year we would have a retreat to identify opportunities for significant new medical books. This might be a result of existing books falling behind, whole new subspecialties emerging, new approaches finding favor, or even specialties without an adequate definitive reference. I remember Lew beating us to the finish line in several instances, such as anesthesiology, orthopedics, and oncology. Whereas we had a whole team of editors combining their best efforts, Lew seemed to be a one-man band.
He was singularly devoted to identifying leading specialists...superstars...in each specialty, those whose names one would dream of having on a title page. I sometimes wondered if he ever relaxed. I would encounter him at the dozens of medical conventions we attended. When I did a good job in managing a book and had my name mentioned in the preface by a grateful author, I would shortly after publication receive a call from Lew congratulating me.
My mother sometimes asked me if I wrote the medical books I published, and how I could pretend to be a physician, given my lack of a medical degree. I would explain that a medical publisher is like the combination of a producer and director of a movie, bringing together all the resources necessary for a successful publication, including recognized expert authors and adequate funding to make the book and market it.
Lew was a master at all aspects of our profession, and this was recognized early on by his managers. He steadily took on more responsibility and was recruited by other companies. He left Lippincott to start the Churchill Livingstone division in the U.S., which took him back to New York City. Then he was called back to Philadelphia to head Lippincott as President, and then after a time recruited by Peter Jovanovich, whose firm had acquired W.B. Saunders, to head that storied medical publisher. Finally, he left the corporate world to found his own company in the emerging world of electronic publishing, which he called PocketMedicine.com, Inc. In every case he left behind a wealth of new medical titles that strengthened each of the companies he led. There may never be another medical publisher so influential in the health sciences.
As a small measure of the legacy of Lew Reines, editors at Doody Enterprises have highlighted a selection of the books that Lew acquired and developed with top-flight editorial teams, listed below. Titles in bold were selected to appear in the current edition of Doody's Core Titles®.
Anesthesiology
Barash: Clinical Anesthesia
Cousins: Cousins & Bridenbaugh's Neural Blockade in Clinical Anesthesia and Pain Medicine
Fleischer: Essence of Anesthesia Practice
Hines: Stoelting's Anesthesia and Co-Existing Disease
Miller: Miller's Anesthesia
Orthopedics
Browner: Skeletal Trauma
Chapman: Chapman's Comprehensive Orthopaedic Surgery
Miller: DeLee & Drez's Operative Sports Medicine
Rockwood: Rockwood & Matsen's The Shoulder
Tornetta: Rockwood, Green, & Wilkins' Fractures in Adults and Children – 3 vol. set
Weinstein: Lovell & Winter's Pediatric Orthopaedics – 2 vol. set
Wolfe: Green's Operative Hand Surgery
Critical care
Layon: Civetta, Taylor, & Kirby's Critical Care
Marino: Marino's The ICU Book
Internal medicine
Kelley: Textbook of Internal Medicine